Welcome
Tervetuloa!
We want to say hello to you at this Supportsite for the fantastic band Heijaste. We want to give you a chance to be on the newest news about this band.
Have a look at this pages and have much fun!
Support
Start
Guestbook
Contact
Impressum
The Host
About Heijaste
It's a 4-down-on-earth member band exists since 2005 and consits of A-J, Viljami, Juho and Eero.
The Band
Bandprofile
Gigs
Music
Songtexts
Pictures
Videos
Important Links
Links
Heijaste
Heijaste @ Myspace
Heijaste Support Germany @ Myspace
Heijaste Fanpage
Credits
host
scrawled.de
foto
The Band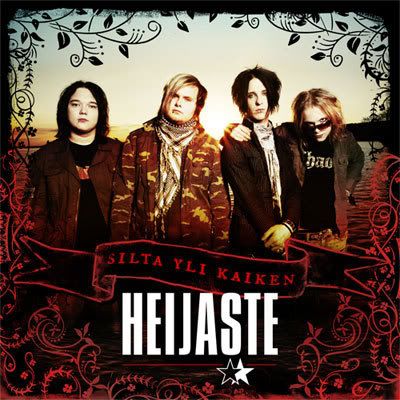 When modern and intensely melancholic Finnish rock clashes to the frenzy of punk, the outcome is pure, straight-forward live energy. Heijaste is a four-piece from Tampere, Finland, armed with this growing young energy. Their aim is to be something else than just another Finnish rock'n'roll band with loads of clichés to prove. To grow as musicians, as a band, do loads of gigs, gain experience and be the best they can.

Signing to a Sahamusic booking agency in 2005 was the first turning point that gave thrust to a new direction. Hard working and gigging around the country created a loyal fan base; forums started to fill with messages, photos in the web emerged and YouTube now has a fair share of Heijaste material as well.

Along came what the band deserved. A record deal with Hype Records (Negative, Flinch, So Called Plan, Jann Wilde & Rose Avenue) was inked in easter 2007 and immediately it was time for studio. The single release "Kiinni" is first preview of what to come: debut album "Silta yli kaiken" will be released this fall 2007.

"Silta yli kaiken" will prove Heijastes unconditional love for their music and presents their best achievement so far. This Finnish singing rock band, fueled with devious synth sounds, crunchy guitars and heart-breaking lyrics is ready to give more and more to the public. A great fucking live show.
[Biography by Heijaste]
Bandmembers